INVISIBLE OVERHEAD DOOR
design Alberto Basaglia Natalia Rota Nodari + De Nardi R&D

Enter directly into the house by car, throught a breach in the wall that magically disappears.
De Nardi has made it possible with the Invisible system. An overhead door that blends perfectly with the wall, so as not to interrupt the visual continuity of the architectural volumes. The performance in terms of energy containment on Invisible are such as to allow car lovers to park their "race car" directly in the living room.
Invisible, like all the overhead doors De Nardi, perfectly espresses the assumption "Form and Fuction" that summarize the know-how typical of Italian design: hight-quality products that are distinguished by the beauty of the shapes. De Nardi uses the collaboration of Studio Basaglia Rota Nodari for the design direction of their brand. A 100% Italian team, consisting of company and designer, who works to create innovation. The handle can make understand the innovative concept of the entire project. A graphic gesture, almost artistic, on the wall that includes all the funtions ergonomically designed to facilitate the opening of the door.
De Nardi controls the entire production cycle: design, production, direct delivery by its own means, setup with highly qualified personnel and, finally, after-sales service, which holds in particular.
Safety according to CE marking
Safety according to CE marking
The Invisible overhead doors are CE certified and are equipped with the following safety systems:
anti-fall system with double certified cable: breaks a cable? The second intervenes. Breaks the second cable? The door is locked in the position in which it is, thanks to the parachute of the series. Since 1998 it has never occured the break of both certified cables.
Limitation of forces: an electronic system adjusts the engine power, maintaining the impact forces within the parameters of safety.
Mechanical safety rib: provides continuos self-test excluding any possibility of uncontrolled failure.
Protection of lever arms: safety and beauty. The levers are designed and positioned as the law requires, are coated to balance into the overhead door.
Durability and manoeuvrability: tested with 20.000 cycles of opening and closing, they didn't have to undergo interventions of extraordinary maintenance and/or replacement of components.
Wind resistance: certified class 2.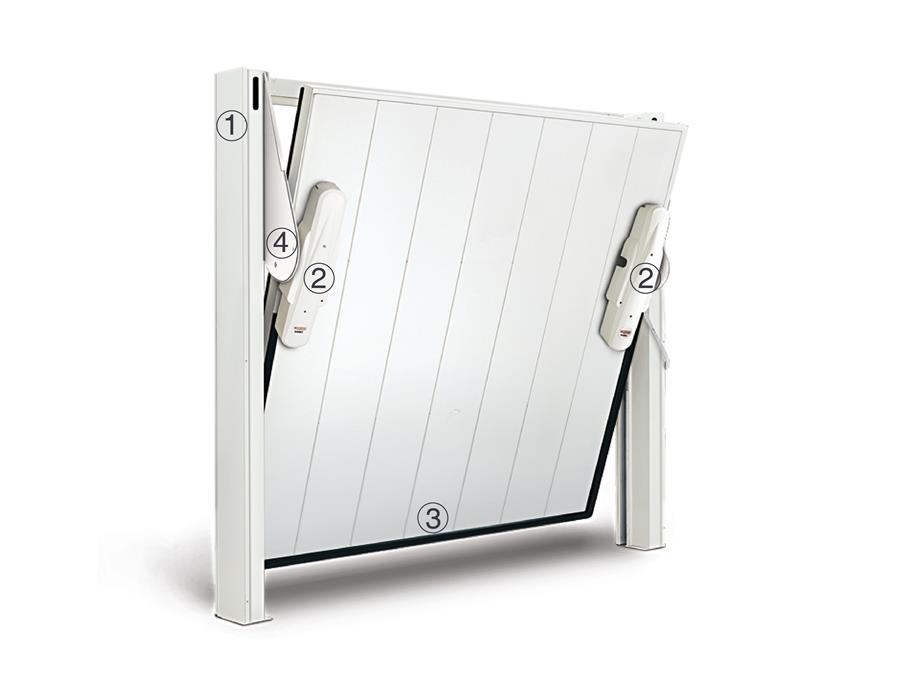 1 Anti-fall system with double certified cable
2 Limitation of forces
3 Mechanical safety rib
4 Protection of lever arms
Anti-fall system with double certified cable